Medicare Supplement Plans Cost, Benefits, & Options
If you're a senior with Original Medicare Parts A & B, you qualify for a Medicare supplemental policy (Medigap).
But if you already have Medicare, why would you want a Medigap Plan?
Well, the reality is that while Medicare is vital in reducing your annual healthcare expenses, it doesn't cover you for everything.
Medicare only covers 80% of Part A (hospital) and Part B (medical) costs.
It's up to you to pay the remaining 20% of the expenses left behind by Medicare.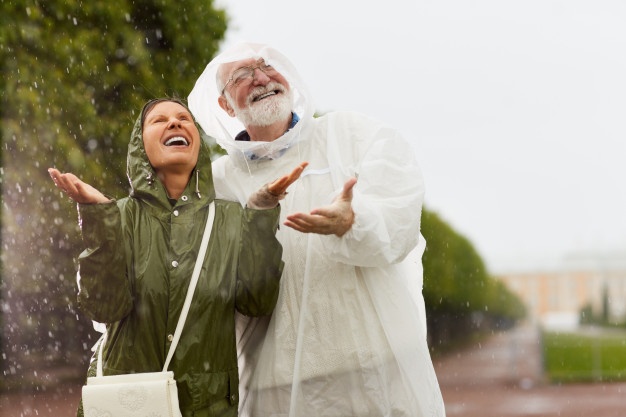 So, if you have an extended stay at the hospital beyond 60 days, the hospital charges you an additional $400 per day for days 61 to 90 and another $800 per day from day 91 onwards.
You can imagine how these costs accumulate fast, and you're left holding the bag.
If you have a Medigap policy, your benefits cover you for these additional out-of-pocket expenses.
You get complete coverage, with total peace of mind knowing you don't have to dip into your retirement savings to cover a bill.
This article covers Medicare supplement plans costs, benefits, and options.
We'll give you everything you need to know to make an informed decision on the right plan for you.
Call Us for a Free Quote on Any Medicare Supplement Plan
Our team of fully-licensed agents is available for a free consultation at 1-888-891-0229.
We'll get you the best rate on Medigap premiums in your state and the advice you need to choose the right plan for your healthcare needs.
Or you can use the automated quoting tool on our site to get a free quote on any plan in any state.
Leave us your contact details if you can't talk right now, and we'll have a fully licensed agent get back to you to discuss your healthcare needs.
Compare Plans & Rates
Enter Zip Code
What are the Different Types of Medicare Supplement Plans?
Each of the ten Medigap plans available from insurers comes with a standardized level of benefits regulated by the Federal government.
That means every insurer offers the same benefits in each plan, bringing consistency to the industry. Here are the benefits you can expect with Medigap plans for 2024.
All Plans offer the following benefits.
Part A coinsurance and hospital costs for up to 365 days after using up Medicare benefits.
Part A hospice care coinsurance or copayment.
Part B coinsurance or copayment.
Blood transfusion costs for the first three pints of blood.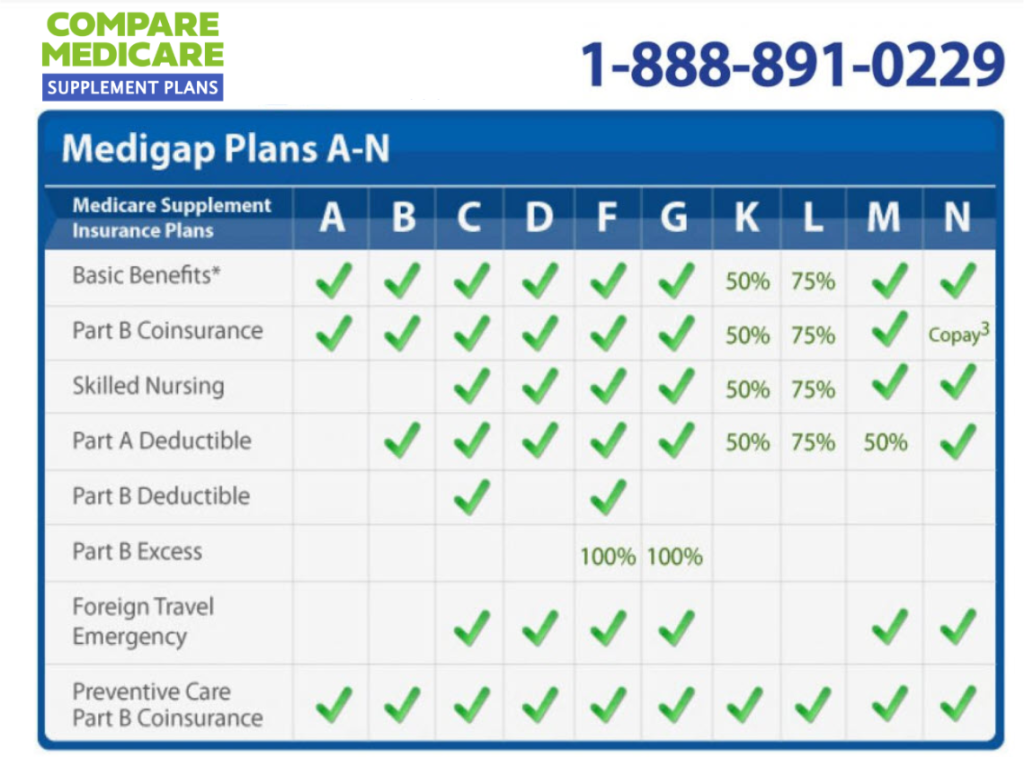 Plan F, G, and Medicare Plan N Offer the following additional benefits for Medicare Parts A & B
Part A deductible.
Part B excess charges (Plan N doesn't cover these charges).
Skilled nursing facility care coinsurance.
80% of emergency healthcare costs when traveling outside the US for 60 days. ($250 deductible and $50,000 maximum apply).
Unlimited coverage for all out-of-pocket costs.
Plans A, B, & D
These are the basic Medigap plans offering coverage for Parts A & B. They don't cover excess charges, and they don't cover foreign emergency care.
Plans F & G
These are the most comprehensive options for Medigap plans.
You get full coverage with no out-of-pocket costs for Parts A & B (Medigap Plan G requires you to make the Part B deductible payment of $226 for 2023.
Plan F covers this expense).
However, Plan F is unavailable to seniors eligible for Medicare after January 1, 2020.
High-Deductible Plans F & G
The HD plan F & G are available from select insurers and some states.
These plans give you all the same benefits as the standard F & G plans. However, your Part B deductible increases from $1,600 to $2,700.
Plans M, K, & L
These plans offer good coverage but vary in the benefits for Part B expenses, ranging between 50% to 75%.
Plan M only pays half the Part A deductible.
How Do Medicare Supplement Plan Providers Set Premiums?
Plan Benefits
The benefits offered in each plan are a determining factor in the premiums charged to the policyholder.
The more coverage you have, the more expensive your policy is. However, that might not always be the case.
For instance, the high-deductible versions of Plans F & G offer excellent coverage in emergencies but require a higher annual deductible (moving from $1,600 for the standard plan to $2,700 for the HD plan).
In exchange, you get a much lower monthly premium, saving as much as 60% to 70% off the standard Plan G or F premium.
Plan N also offers good coverage for seniors in medical emergencies, with lower monthly premiums.
However, you must make copayments at the doctor's office and emergency room.

Age
Some insurers will charge attained-age or related-age premiums depending on your age.
So, they might lock you into a premium for life or increase the premium as you age. Typically, premiums increase with age and adjust to economic factors like inflation.
Attained-Age-Related-Policies
This premium is based on your current age. Your policy premium will increase as you get older.
Issue-Age-Rated Policies
The insurer bases your premium on your age when you purchase your Medigap policy.
Younger seniors will receive lower prices, and the premiums don't increase as you get older, other than for economic reasons, like inflation.
Community-Rated or No-Age Rated
This model gives all applicants the same premium, regardless of age.
Gender & Smoking
Plans can also vary in cost depending on your personal risk profile.
Men and smokers are more expensive to insure because they tend to experience more medical complications as they age compared with women and nonsmokers.
Women usually pay around $10-$15 less in monthly premiums.
Smokers could end up paying as much as $100 or more above the rate charged to nonsmokers.
Location
Medigap premiums vary between states and providers. Some providers are more expensive than others in some states and cheaper in others.
For example, Aetna might be the most affordable option for Plan G in one state but the most expensive option in another.
Medicare Supplement Plans Cost – Analyzing Average Premium Costs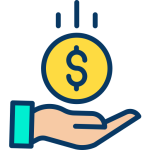 So, what can you expect to pay for a Medigap policy?
Here are the average costs of Medigap policies across all states in America.
Note: these prices are across age groups from 65 to 75 years and include smokers, nonsmokers, men, and women. They also represent the average premium costs across all insurers.
Contact our team for an accurate Medigap quote in your state.
| Plan | Price |
| --- | --- |
| Medigap Plan A | $85 to $416 |
| Medigap Plan B | $113 to $303 |
| Medigap Plan D | $106 to $340 |
| Medigap Plan G | $96 to $341 |
| HD Medigap Plan G | $30 to $67 |
| Medigap Plan K | $47 to $112 |
| Medigap Plan L | $59 to $250 |
| Medigap Plan M | $72 to $274 |
| Medigap Plan N | $72 to $310 |
Frequently Asked Questions
How much do Medicare Supplement Plans cost?
The cost of Medicare Supplement Plans varies depending on several factors, including the plan type, location, age, gender, and health condition. On average, premiums can range from $50 to $300 per month.
What factors influence the cost of Medicare Supplement Plans?
The cost of Medicare Supplement Plans is influenced by factors such as your age, location, insurance company, plan type, and any additional benefits or riders you choose. It's advisable to compare plans from different providers to find the best price.
Are Medicare Supplement Plan premiums tax-deductible?
In most cases, Medicare Supplement Plan premiums are not tax-deductible. However, it's always recommended to consult with a tax professional or refer to the IRS guidelines for specific information related to your situation.
Do Medicare Supplement Plan costs increase with age?
Yes, the cost of Medicare Supplement Plans generally increases as you age.
Can I change my Medicare Supplement Plan if the cost becomes unaffordable?
Yes, you have the option to change your Medicare Supplement Plan if you find the cost unaffordable, but most likely you will have to go through medical underwriting to qualify. Call us today for help to make sure you're not overpaying. 1-888-891-0229
Are Medicare Supplement Plan costs standardized across different insurance companies?
Yes, the benefits of each Medicare Supplement Plan (A, B, C, D, F, G, K, L, M, and N) are standardized by the government.
How can I reduce my Medicare Supplement Plan costs?
While you cannot directly negotiate the cost of Medicare Supplement Plans, there are strategies to help lower your overall healthcare expenses. These include comparing plans, taking advantage of discounts, maintaining good health, and exploring available financial assistance programs.
Does Medicare Supplement Plan cost vary by state?
Yes, Medicare Supplement Plan costs can vary by state due to factors such as local healthcare costs and regional regulations.
It's advisable to research and compare plans specific to your state of residence to get accurate cost estimates.
Are Medicare Supplement Plan costs the same for men and women?
Generally, Medicare Supplement Plan costs are affected by gender as well as other variables. Other factors such as age, location, and plan type all determine what the premiums will be.
Can the cost of Medicare Supplement Plans change annually?
Yes. It's important to review your plan each year and consider other options if necessary.
Medicare Supplement Plans - How to Apply
The easiest way to get started is to call us today at 1-888-891-0229.
To obtain quotes from highly regarded insurance providers, simply complete the form on the right-hand side or call us to connect with a knowledgeable agent.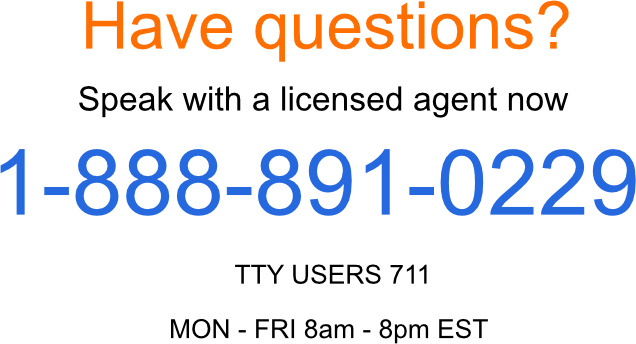 Updated December 4th, 2022