Medicare Supplement Plans 2024
Medicare Supplement plans in 2024 provide supplemental coverage to Original Medicare to help cover the gaps in Parts A (hospital coverage) and B (doctor services). These plans are offered in 10 different letters and can make a huge difference when it comes to covering out-of-pocket expenses. With these plans, you can have peace of mind knowing that your medical costs will be taken care of during your retirement.
Medicare "Gaps" include things like:
Copays

Coinsurance

Deductible
Having a Medicare Supplement Plan in 2024 can help pay most or in some cases all of these gaps for you.
What are Medicare Supplement Plans?
Medicare Supplement plans, also known as Medigap, are extra insurance policies that can help you pay for a variety of out-of-pocket expenses associated with traditional Medicare coverage. It is important to note that you will need to make an additional monthly premium payment for this supplemental coverage in addition to your premiums for Part B and Part D (optional).
There is a monthly premium that you must pay to the insurance company to have a Medicare supplement policy. If you choose to enroll in a Medicare Part D prescription drug plan in 2024, there is typically also a monthly premium for that as well.
What do Medicare Supplement Plans in 2024 Cover?
Medicare supplement plans, also known as Medigap, are additional insurance policies that help cover the out-of-pocket expenses associated with Medicare Parts A and B. These plans help bridge the gaps left by Medicare coverage and provide much-needed financial protection for individuals.
Medigap plans to provide additional coverage to pay for many of the services that Medicare does not cover.
For example, they may pay for copayments, coinsurance, deductibles, and other medical costs that are not covered under Original Medicare.
In addition to covering these types of expenses, Medigap plans may also offer coverage for foreign travel emergency care and hospice care.
When it comes to what is covered by Medigap plans, there are several different kinds available to choose from based on individual needs. The most popular of these plans are Medicare Plan G and Plan F.
Medicare Supplement plans in 2024 are lettered A-N.
Basic plans such as Medigap Plan A provides basic coverage that includes Part A coinsurance costs up to an additional 365 days after Original Medicare benefits have been exhausted, whereas Medicare Plan F covers 100% of the gaps in Medicare.  
Medicare Supplement Plan options
Other popular Medigap plan options include Plans G and N, which are very popular due to their high coverage and low premiums.
Medicare Supplement Plans Cost for 2024
The cost of any given Medigap plan will depend on a number of factors including age, location, and the type of plan chosen. To get an accurate estimate it's important to compare multiple quotes from reputable insurance providers in order to find the best rate possible while still getting the desired level of coverage needed.
By filling out the quick form to the right you can view quotes at any time in your area from the top insurance companies.
It's important to keep in mind that Medigap policies do not replace regular Medicare coverage—they just provide additional financial assistance when necessary due to uncovered expenses incurred during medical treatment.
Additionally, some services such as long-term care or outpatient prescription drugs may not be fully covered by all Medigap policies so it's important to allow us to help analyze your own personal situation to see what's right for you.
Medicare supplement plans in 2024 can be an invaluable asset in helping people on Medicare manage their out-of-pocket healthcare costs without having to worry about unexpected expenses arising when going through medical treatments or procedures.
With the right information about what is covered under any given plan, those on Medicare can make an informed decision about which plan is best suited for their individual needs and budget constraints while still ensuring they have adequate financial protection should they need it down the road.
Medicare Supplement Plans Comparison Chart 2024
There are 10 different Medigap plans shown on the Medicare Supplement Plans comparison chart for 2024.
Below is the chart that gives an overview of the benefits of each plan to help you compare. While there are several plans to choose from, below is a small list of the most popular plans:
The Best Medicare Supplement Plans for 2024:
Plan F is only available to people enrolled in Medicare prior to January 1st of 2020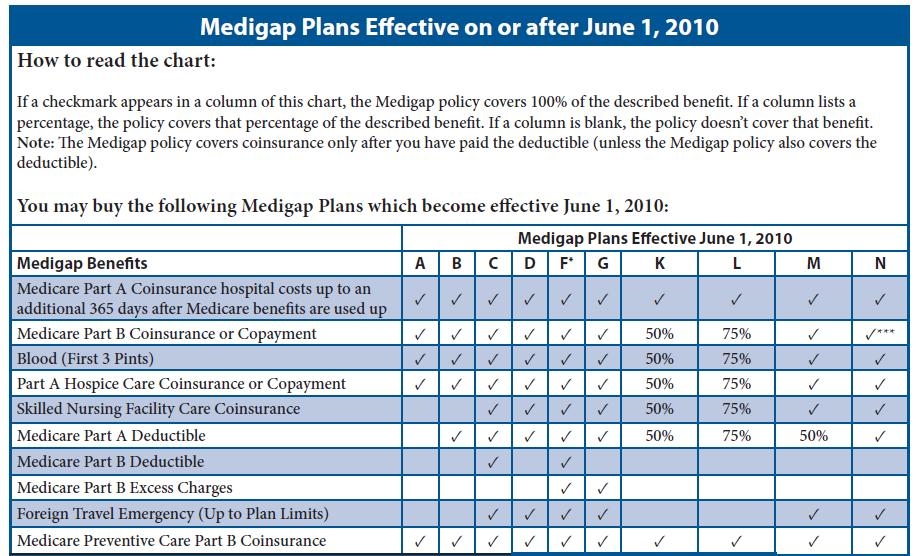 Medicare Supplement Plan G
For those expecting significant medical costs in the coming year, Medicare Plan G might be a great option. This Medigap plan offers supplemental coverage to Original Medicare (Parts A & B) and helps cover out-of-pocket expenses not directly paid for by your original policy. It is essentially similar to Plan F, so you can have peace of mind knowing that your medical needs will be taken care of throughout the year.
What is Medicare Supplement Plan G?
Medicare Plan G (Medigap Plan G) is one of the ten standardized insurance plans available to beneficiaries who became eligible for Original Medicare after January 1st, 2020.
This particular plan offers perhaps the most comprehensive coverage compared to the other standardized options, with coverage for excess charges and foreign travel emergencies.
In addition, there is even a high-deductible version of this same plan if you are looking for more cost-effective protection.

Medicare Plan G Benefits
Medicare Plan G provides 100% coverage of the gaps in Medicare after you pay the annual Medicare Part B deductible each year. This is paid just once per year, and once that is met you'll get all Medicare-approved expenses paid for you by Part B and Medicare Plan G.
Medicare Part B Deductible for 2024
Currently, for 2023, the Medicare Part B deductible is $226. This changes slightly each year and should be close to this amount for 2024.
Medicare Supplement Plan N
Medicare Supplement Plan N has become one of the top Medicare Supplement Plans for 2024 because of its great coverage and lower premiums than Medicare Plan G.
 Medicare Plan N is one of 10 standardized plans offered by private companies that are approved by Medicare. Premiums vary from provider to provider, but coverage is generally consistent among all providers offering the same plan letter designation.
One benefit of Medicare Plan N as well as all the Medigap plans is that there is no network. This means people on Plan N can choose any doctor they prefer without worrying about whether or not their doctor accepts their insurance plan, provided they simply accept Medicare Part B.  

Medicare Supplement Plan N Benefits
With Medicare Plan N, you still must pay the Medicare annual Part B deductible each year just as you do on Plan G. 
After that deductible is met, you could have the following expenses with Plan N:
Up to a $20 copay per doctor's visit

A $50 copay if you visit the ER and you're not admitted

Does not cover Medicare Part B excess charges
Medicare Plan N is still a great choice despite having the chance of paying some other expenses out of pocket, mainly because of its low monthly premiums. In fact, Medicare Plan N can be up to $30 cheaper per month than Medicare Plan G, which makes it a great option for people who are healthy but still want great coverage.
When to Enroll in a Medigap Plan for 2024
Your 6-month Medigap Open Enrollment Period is the best time to purchase a Medigap policy. During this period you will be able to enroll in any Medigap plan you choose, regardless of your health condition.
Taking advantage of this window of opportunity gives you access to any Medigap policy sold in your state from any company, so long as you have Medicare Part B coverage.  
The 6-month Medigap Open Enrollment period begins the same day your Medicare Part B coverage becomes effective and lasts for 6 months.
Changing Medicare Supplement Plans
Changing Medicare supplement plans is easier than you might think, though there are a few things you need to consider. 
Knowing when you can change your plan, how to change it, and understanding medical underwriting are all important aspects of successfully making the switch.
When you can change Medicare supplement plans depends largely on individual circumstances. Generally speaking, if you are currently enrolled in a Medigap plan you may apply for a different plan or company at any time during the year. You do not need to wait until during open enrollment periods which occur between October 15 and December 7.
However, if you experience certain life events such as marriage, divorce, or moving to a different state, then you may qualify for special enrollment periods outside of the general open period where changing plans can be done at any time. It's important to check with your local Social Security office or insurance provider before making a switch in order to ensure that you meet the eligibility guidelines of each plan before enrolling.
The process of changing Medicare supplement plans varies depending on your current plan and the new one you have chosen. Most insurers will allow you to transfer from one plan to another with no interruption in coverage if you qualify. You just need to fill out an application form which includes completing the medical questions.
Medical Underwriting
When switching Medicare supplement plans, it's important to understand medical underwriting rules which are essentially guidelines that must be met in order for an insurer to accept and cover an individual's health care needs. Underwriters assess each applicant by looking at their past medical history as well as any current conditions they may have.
Some companies might have an upcharge of the monthly premium for factors such as height and weight, but most companies will provide you with a yes or no as to the status of your application.
Ultimately, changing Medicare supplement plans is something that should be done with the help of a qualified agent. We help several people per day change their Medicare supplement plan. To get started just call us today at 1-888-891-0229.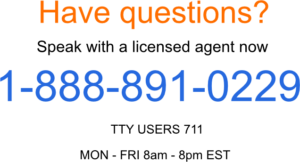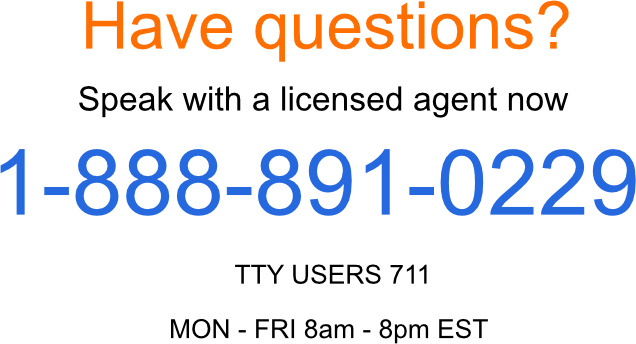 Updated December 4th, 2022