Medicare Supplement Plan N is a popular Medigap plan that helps pay many of the gaps, or expenses, of Medicare Part A and B. The reason Medigap Plan N is so popular is because of its outstanding coverage, combined with lower premiums than other popular Medicare Supplement plans.
Medicare Plan N  
Medicare Supplement Plan N is one of ten Medicare Supplemental insurance plans (Medigap) available to Medicare beneficiaries. Medigap plans are designed to help cover the costs that Original Medicare does not, such as deductibles, coinsurance, and copayments.
Medicare Plan N is well known for its low monthly premiums as well as low rate increases and offers a range of benefits to Medicare beneficiaries, including lower out-of-pocket costs and greater flexibility in choosing healthcare providers.
As with all Medicare Supplement plans, on Medicare Plan N you may choose any provider in the country that accepts Medicare. This can be especially important for those who have established relationships with their current doctors and want to continue seeing them. One of the primary benefits of Medicare Supplement Plan N is that it covers many of the out-of-pocket costs associated with traditional Medicare, including the Medicare Part A deductible, coinsurance for hospital stays, and the 20% coinsurance of Medicare Part B (Doctor's services). 
Overall, Medicare Supplement Plan N can be a great option for people enrolled in Original Medicare who want additional coverage and flexibility in their healthcare choices but have a lower monthly premium than some of the other Medigap plans.
What does Medicare Plan N Cover?

Similar to other Medicare supplemental policies, Medicare Supplement Plan N is designed to help fill coverage gaps left by traditional Medicare. These gaps can leave beneficiaries responsible for significant out-of-pocket costs, which can be a financial burden for many seniors.
Traditional Medicare only covers about 80% of medical costs, leaving the remaining 20% to be paid by beneficiaries. This is where supplemental plans like Plan N can be incredibly valuable. By covering the remaining 20% of costs, these plans can help eliminate the financial burden that beneficiaries may face.
One of the primary benefits of Medicare Supplement Plan N is that it covers coinsurance costs for Medicare Part A and Part B, as well as hospice care and skilled nursing facilities. This means that beneficiaries won't be responsible for paying the 20% coinsurance fees that would normally be charged under Original Medicare. Instead, Medicare Plan N pays this amount for you.
In addition to the coverage for coinsurance costs, Medigap Plan N also offers other valuable benefits, such as coverage for emergency medical care received while traveling outside the United States. 
Medicare Plan N Covers:     
Part A coinsurance

Part B coinsurance

Blood (first 3 pints)

Part A hospice coinsurance

Skilled Nursing home coinsurance (up to 100 days)

Part A deductible

Foreign travel emergencies
What does Medicare Plan N not cover?

Medigap Plan N has lower monthly premiums than Plan F or Plan G. In exchange for lower premiums, you might have some additional out-of-pocket expenses with Plan N.
This helps lower the premiums as well as future rate increases, as people tend to use the coverage more responsibly than a plan that might have what is called "first dollar" coverage such as Medicare Plan F.
Medicare Plan N does not cover:
The Medicare Part B deductible

Up to a $20 copay per doctor's visit

A $50 copay if you visit the emergency room and are not admitted

Medicare Part B excess charges (these are very rare)

Prescription drugs

Dental, vision, or hearing benefits
Medicare Plan N vs Plan G 
Deciding if Medicare Plan N or Plan G is best for you depends on your budget and your current health conditions. Both plans are very comprehensive, with Medicare Plan G offering the most coverage for people new to Medicare.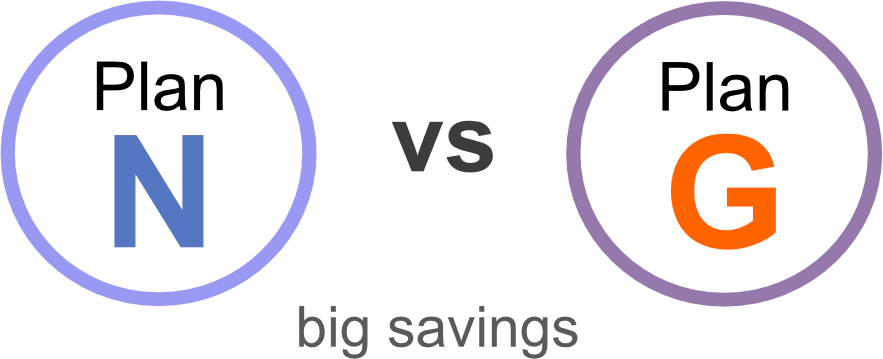 What is the difference between Medicare Plan G and N?
Medicare Plan G    
Medicare Plan G pays 100% of the gaps in Medicare after you pay the annual Medicare Part B deductible. Once that deductible is met all of your Medicare-approved expenses will be paid 100% for the rest of the year. This plan obviously costs more than Medicare Plan N, in fact, it can cost up to $30 more per month.
Medicare Plan N  
With Medicare Plan N, you will save on your monthly premiums. If you are healthy and do not visit the doctor often, this plan is a great choice to provide excellent coverage at a lower cost.
If you do visit your doctor frequently, then keep in mind you might have a copay of up to $20 per doctor's visit with Plan N. This could add up, however, you would need to have one visit per month at least to likely make Plan G a better option.
Both Plan N and Plan G offer excellent coverage to help supplement Medicare. Fill out the form to the right to view the rates for each plan in your area to help you compare costs.

The cost of Medicare Supplement Plan N can vary depending on several factors. These factors include your age, gender, zip code, tobacco use, and health status.
In general, the older you are, the higher your premiums will be. Women typically pay lower premiums than men because they tend to live longer and use fewer medical services.
On average, the cost of Medicare Supplement Plan N ranges from $100 to $300 per month. However, your actual cost will depend on your individual circumstances.
To get the most accurate estimate of your premiums, call us today at 1-888-891-0229.
How to Enroll in Medicare Plan N

Medicare Supplement Plan N can be a cost-effective way to help cover some of the out-of-pocket expenses associated with healthcare. While the cost of this policy can vary, it is important to shop around and compare rates from different insurance companies to find the best coverage at the most affordable price.
Our licensed insurance agents can easily shop the rates for Medicare Plan N from the top companies to help save you money, and our service is entirely free.
Call us today to get started, or fill out the form to the right.