How Much Does Medicare Plan N Cost?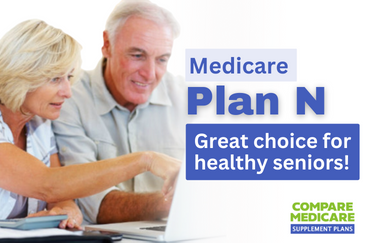 Are you assessing Medigap plans and the cover, benefits, and premiums they offer? Suppose you're a senior or retiree in good health and don't see the doctor often.
In that case, consider signing up for Plan N. Plan N is one of the most popular plans, with 29% of new Medigap enrollees going with it for their supplemental insurance.
Medicare Plan N can be a great choice for healthy seniors. You get affordable monthly premiums and great coverage if you experience a medical emergency.
So, how much does Medicare Plan N cost, and what can you expect to pay in monthly premiums?
This post gives you all the information you need on Medigap Plan N, including benefits, coverage, and premium costs.
What Is Medigap Plan N & How Does It Work?
Medigap Plan N, like other supplemental Medicare policies, covers you for the out-of-pocket expenses you incur with your medical treatments. While Original Medicare is a must-have for any senior or retiree, it doesn't cover all your healthcare costs.
Typically, Medicare Parts A & B only cover around 80% of the expenses, and you must pay the rest. Medigap fills the gap in these healthcare costs, giving you financial assistance to pay for most of the inpatient and outpatient healthcare expenses you incur for your treatment and care.
With Plan N, you must make a small copayment of $20 or up to 20% of the extra costs you incur when seeing doctors and specialists. There's also a $50 copay for trips to the emergency room that don't end up with you being admitted to the hospital.
Plan N doesn't cover the "excess charges" resulting from seeing medical professionals charging more than Medicare-approved amounts.

What Coverage & Benefits Do You Get with Plan N?
Plan N covers the Par A deductible in Original Medicare of $1,600. You also get cover for the first three pints of blood in blood transfusions that Original Medicare doesn't cover. Plan N doesn't cover the Part B deductible of $226 in 2023. The only plan that does is Plan F, and that's not available to new enrollees eligible for Medicare after January 1, 2020.
There are no out-of-pocket limits on Plan N, and you can see any doctor accepting Medicare anywhere in the United States, even if you're traveling. Speaking of travel, Medigap Plan N covers you for up t 80% of medical expenses incurred in foreign travel emergencies after meeting the $250 deductible for this service.
Here's a quick overview of the coverage you get with Plan N.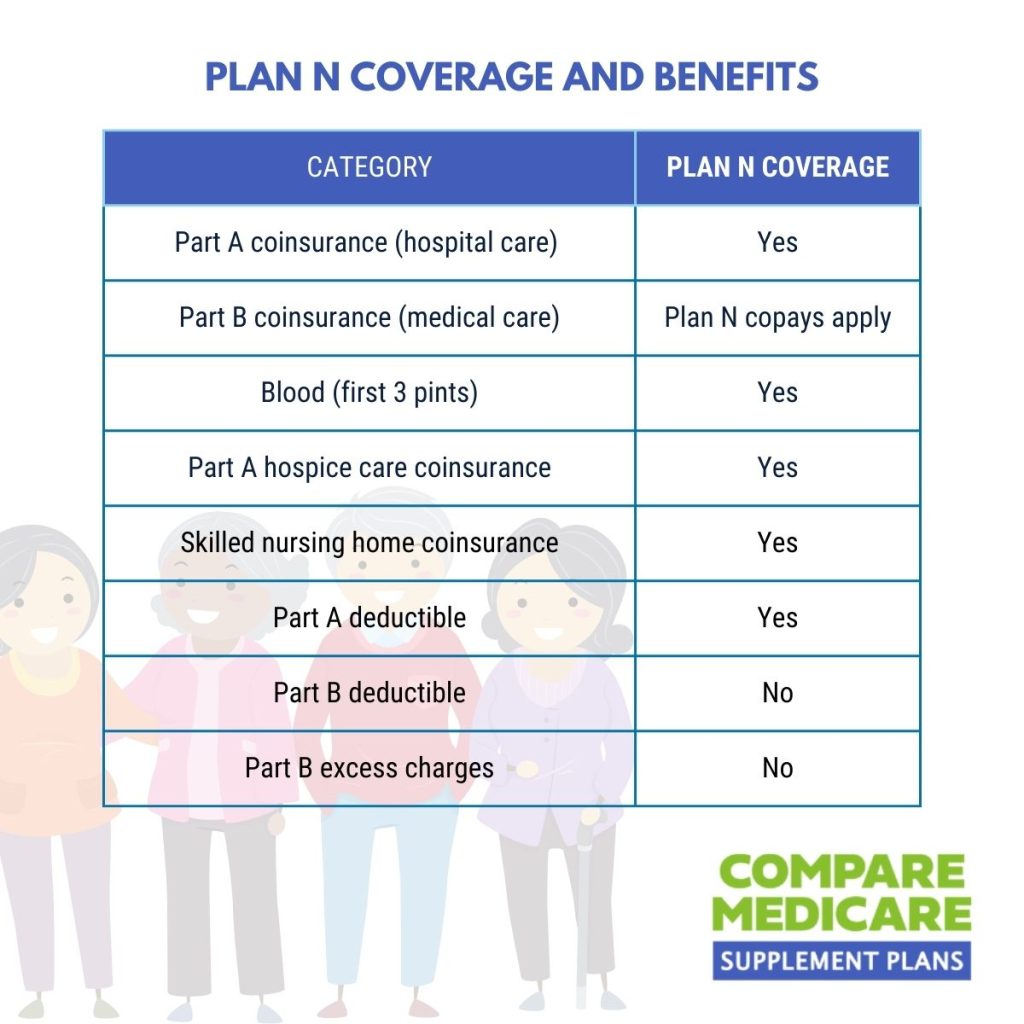 How Much Does Medicare Plan N Cost?
Unlike Original Medicare, Medigap supplemental plans are available for private medical insurers in the United States. While the Federal government regulates the benefits offered on Plan N across all providers, it has no say in how insurers decide to set premium rates.
Policy Rates by Personal Data
The first thing insurers do when assessing you for a Medigap policy is determine your health status and personal data to set your premium. They look at your age, and the older you are, the more you pay in premiums. For instance, a 65-year-old woman will pay less in premiums than a 70-year-old.
Women will also pay less in premiums since men are more prone to developing medical issues than the fairer sex. Your smoking status also plays a role in the cost of your premiums because smokers are more expensive to insure.
If you have a pre-existing condition, it won't affect your premium pricing, provided you sign up for Medigap in the first six months after you turn 65, also known as the "Open Enrollment Period."
Policy Rate by Insurer
Insurers set premiums at different rates. For instance, Humana is known as one of the most expensive companies for Medigap policies, while Blue Cross Blue Shield or Mutual of Omaha have much lower rates, on average.
However, companies like Humana might offer you additional benefits to offset the higher premiums. You might get additional benefits like discounted gym memberships, free meal delivery after returning from a hospital stay, and household discounts for other people in your household taking a Medigap plan.
Policy Rates by State
When setting premiums, the biggest and most confusing factor comes from your location. Insurers may offer Plan N at X cost in California, but it's cheaper for residents in Florida. So, you might find Humana is the least expensive option in one state for Plan N premiums and the most costly provider for Plan N in other states.
For these reasons, it's prudent to deal with a brokerage like us when getting quotes on premiums from insurers. We deal with all the leading insurers offering Medigap in your state, and we'll source you the lowest premium available.
Frequently Asked Questions
Who is eligible for Medicare Plan N?

Medicare Plan N is available to individuals who are already enrolled in Medicare Part A and Part B. Eligibility requirements include being 65 years or older or having certain disabilities.
When can I enroll in Medicare Plan N?

You can enroll in Medicare Plan N during your Medigap Open Enrollment Period, which begins when you are 65 years old and enrolled in Medicare Part B. It is a six-month period during which you have guaranteed access to any Medigap plan without medical underwriting.
What are the costs associated with Medicare Plan N?

The costs of Medicare Plan N can vary depending on factors such as your location, insurance provider, age, and other personal considerations. It's essential to compare plans from different providers to get accurate cost estimates.
What are the main differences between Medicare Plan G and Plan N?

Medicare Plan G and Plan N are similar in many ways, but the main difference is that Plan N requires you to pay certain copayments or coinsurance for doctor visits, emergency room visits, and some hospital stays. Plan G, on the other hand, covers these costs completely.
What does Medicare Plan N coverage include?

Medicare Plan N covers a range of healthcare costs not covered by Original Medicare, such as copayments for doctor visits, emergency room visits, and hospital stays after the 20th day. It also provides coverage for Medicare Part A coinsurance and hospital costs for an additional year after Medicare benefits are exhausted.
Can I reduce the costs of Medicare Plan N?

There may be opportunities to lower the costs of Medicare Plan N. Some insurance providers offer discounts for enrolling in electronic payment methods or paying premiums annually. Comparing plans from different providers can also help you find more competitive pricing.
Are prescription drugs covered under Medicare Plan N?

No, Medicare Plan N does not include prescription drug coverage. To get prescription drug coverage, you can enroll in a standalone Medicare Part D prescription drug plan.
What are the other benefits of Medicare Plan N?


In addition to the coverage mentioned earlier, Medicare Plan N also provides coverage for skilled nursing facility care, blood transfusions, and emergency medical services received outside the United States (up to plan limits).
Which are the best Medicare supplement plans?

The best Medicare supplement plan for you depends on your specific healthcare needs and budget. Plan G and Plan N are popular options as they offer comprehensive coverage. It's important to compare plans and consider factors like coverage, cost, and personal preferences when choosing the best plan for you.
How can I find out more about the cost of Medicare Plan N?

To obtain specific information about the cost of Medicare Plan N, it is recommended to contact insurance providers directly or visit their websites. Additionally, the official Medicare website provides general information about Medigap plans and cost comparisons.
Is Medigap Plan N the Best Supplemental Medicare Plan for You?
Medigap Plan N is the best choice for healthy seniors and retirees living active lifestyles that don't incur many medical expenses during the year. If you don't visit the doctor or emergency room often, consider Plan N. You get an affordable monthly premium, but you also get optimal coverage in the event of a medical emergency.
Call our team for more advice on Medigap Plan N. We're happy to walk you through everything you need to know about this supplemental insurance policy.