Anthem Medicare Supplement Plans Review
Are you a Medicare beneficiary? Original Medicare is a blessing for many seniors and retirees.
It helps cover the growing annual healthcare costs as you age, giving you the coverage you need to protect your retirement savings from outlandish medical expenses.
However, Original Medicare doesn't cover all costs. You'll be left with out-of-pocket expenses for inpatient and outpatient care in Medicare Parts A & B. Anthem Medicare Supplement Plans offer you a way to take care of these additional expenses.
There are ten Medigap plans, A, B, C, D, F, G, K, L, M & N, each offering a different level of supplemental care. Anthem focuses its offering on a select number of plans to give its members the best options for Medigap available on the market.
This post unpacks the offering from Anthem. We'll give you everything you need to know about the benefits, coverage, and premiums associated with the Medigap plans they offer.
Anthem Medicare Supplement Plans at a Glance
Anthem is part of the Blue Cross Blue Shield group, offering competitive premiums on many Medigap policies. However, it has a limited footprint and only offers Medigap plans in 16 states.
You can access a limited range of Medigap plans, with Plans A, G, and N available in most states. The company also offers the high-deductible version of plan G in some states. Call us, and we'll help you get the policy you need in any state where Anthem operates.
Anthem offers its policyholders extra benefits and a discount program, such as access to the SilverSneakers program for discounted rates on gym memberships at participating locations nationwide.
Anthem is a parent company of Blue Cross Blue Shield network subsidiaries. The company has headquarters in Indianapolis but is licensed to operate independently in 14 states. Anthem and Wellpoint merged in 2004, becoming one of the largest healthcare providers in the country.
Anthem provides Medigap plans in 16 states. 14 states have companies associated with the Blue Cross Blue Shield brand, and the other two companies are registered under its subsidiary, Amerigroup. The company had over 670,000 Medigap beneficiaries, with a market share of just under 5%.
Anthem Medicare Supplement Plans – Benefits & Coverage
Anthem and the companies under its umbrella offer three of the ten Medigap plans.

Medigap Plan A — All insurers must offer Plan A. It provides beneficiaries with limited coverage and basic benefits. The plan usually excludes additional benefits and is the most inexpensive policy in the Anthem range.
Medigap Plan G — This policy offers the most comprehensive level of coverage. The only thing it doesn't cover is the Part B deductible of $226 in 2023. Plan G comes in a high-deductible version in some states but increases the annual Part A deductible from $1,600 to $2,700. HD Plan G isn't available in all states.
Medigap Plan N — This policy offers you an affordable monthly premium, but you'll have to make copayments of $20 with the doctor and $50 on trips to the emergency room. However, the copayment is waived at the hospital if you're admitted to inpatient care.
Anthem also provides Medigap Plan F for people qualifying for Medicare Parts A & B before January 1, 2020.
Plan A, F, G, & N Offer the Following Benefits
Part A coinsurance and hospital costs up to an extra 365 days after Medicare benefits expire.
Part A hospice care copayments or coinsurance.
Part B coinsurance or copayments.
The first three pints of blood in procedures.
Plan F, G, and N Offer the Following Additional Benefits for Medicare Parts A & B
Part A deductible.
Part B excess charges (Plan N doesn't cover excess charges).
Skilled nursing facility care coinsurance.
80% of costs involved with emergency care services for the first 60 days when traveling outside the United States. ($250 deductible and $ 50,000 lifetime maximum).
What Anthem Medicare Supplement Plans Don't Cover
Anthem Medigap policies don't cover the costs of preventative care. Long-term care in nursing facilities and prescriptions. It also doesn't cover the Part B deductible on any plan except Plan F. There's no coverage for private nursing or care at long-term unskilled nursing homes.
Anthem Medicare Supplement Plans – Premiums
Anthems policy premiums vary depending on age, gender, and smoking status. They also differ from one company to company in the Anthem group and by the state you live in. For instance, policies in Colorado are more expensive than average, while Plans in Ohio are less expensive than average, and plans in Virginia are average for the United States.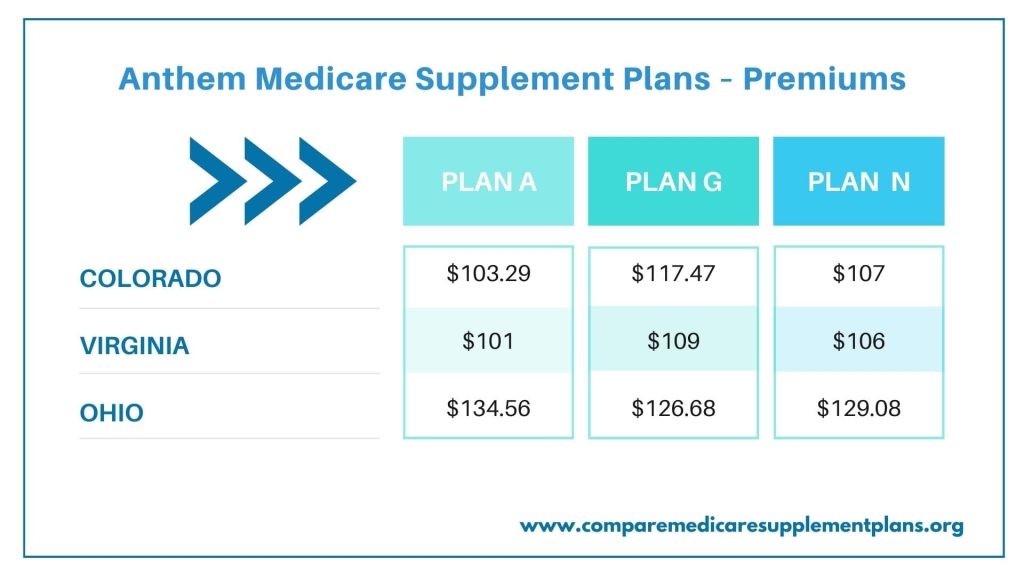 Vision & Dental Packages
Anthem offers Medigap Plan G or Plan N policyholders the option of taking a vision and hearing package for access to hearing care services discounts with NationsHearing, and vision discounts with Premier LASIK and Glasses.com.
If you want to take the additional coverage for hearing and vision, you'll need to pay an additional fee of up to $22, which varies by state. On average, we found the hearing and vision package has the following costs in these states.

Anthem Medicare Supplement Plans – Additional Benefits
Anthem Medigap policies come with the following additional perks for beneficiaries.
SilverSneakers gym discounts.
ScriptSave pharmacy and vitamins discounts.
Discounts with Jenny Craig, FitBit, and ChooseHealthy.
Qualifying beneficiaries will receive a 5% household discount for additional policies and a $2 discount on monthly premiums for setting up automatic payments. You can save up to $48 if you pay your annual premiums for the year upfront.
Anthem Medicare Supplement Plans – Third-Party Ratings & Reviews
Anthem receives 24% more complaints than the industry average. However, it has an AM Best financial strength rating of "A," an NCQA rating of 3 to 4, a Consumer Affairs rating of 4, and the Better Business Bureau rates the company F.
Frequently Asked Questions
Who is eligible for Anthem Medicare Supplement Plans?
Anthem Medicare Supplement Plans are available to individuals who are already enrolled in Original Medicare (Part A and Part B). Eligibility requirements include being 65 years or older or having certain disabilities.
When can I enroll in Anthem Medicare Supplement Plans?
The best time to enroll in an Anthem Medicare Supplement Plan is during the Medigap Open Enrollment Period, which starts when you are 65 years old and enrolled in Medicare Part B. This period lasts for six months and guarantees you access to any plan without medical underwriting.
What are the best Medicare Supplement Plans offered by Anthem?
Anthem offers a range of Medicare Supplement Plans, including Plan A, Plan F, Plan G, and Plan N. The best plan for you depends on your specific healthcare needs and budget. Plan G and Plan N are popular options as they provide comprehensive coverage at a more affordable price than Plan F.
What is the difference between Medicare Supplement Plans and Medicare Advantage?
Medicare Supplement Plans, also known as Medigap, work alongside Original Medicare and help cover out-of-pocket costs such as deductibles, copayments, and coinsurance. On the other hand, Medicare Advantage plans are an alternative to Original Medicare and are offered by private insurance companies. They provide Medicare Part A and Part B coverage along with additional benefits like prescription drug coverage and dental or vision benefits.
What coverage do Anthem Medicare Supplement Plans provide?
Anthem Medicare Supplement Plans cover a range of healthcare costs not covered by Original Medicare, such as deductibles, copayments, and coinsurance. The specific coverage depends on the plan you choose. Generally, Medigap plans provide coverage for services received from any healthcare provider that accepts Medicare.
What benefits do Anthem Medicare Supplement Plans offer?
Anthem Medicare Supplement Plans offer benefits such as coverage for Medicare Part A and Part B coinsurance, coverage for additional hospitalization days, coverage for skilled nursing facility care, and coverage for emergency medical services received outside the United States (up to plan limits).
Can I use my Anthem Medicare Supplement Plan anywhere in the United States?
Yes, Anthem Medicare Supplement Plans offer nationwide coverage. You can use your plan anywhere in the United States as long as the healthcare provider accepts Medicare.
Can I switch from a different Medicare Supplement Plan to an Anthem plan?
Yes, you can switch from one Medicare Supplement Plan to another, including switching to an Anthem plan. However, eligibility and underwriting rules may apply depending on the timing and circumstances of the switch.
Do Anthem Medicare Supplement Plans include prescription drug coverage?
No, Anthem Medicare Supplement Plans do not include prescription drug coverage. To get prescription drug coverage, you can enroll in a separate Medicare Part D prescription drug plan.
How can I find out more about Anthem Medicare Supplement Plans?
To learn more about Anthem Medicare Supplement Plans, their specific coverage options, and how they suit your needs, you can visit Anthem's official website, contact their customer service, or speak with a licensed insurance agent who can provide personalized guidance.
Get Free Advice and Quotes on Anthem Medicare Supplement Plans
If you need a Medigap supplement plan, contact our team of fully licensed agents at 1-888-891-0229. We offer professional guidance on Anthem Medicare Supplement Plans with a free consultation and quote.
You can rely on us to get you the best rates in your state for any plan. If you can't talk right now, leave us your details on our contact form, and we'll have someone get back to you.