Medicare Supplement Plans Pennsylvania in 2023
Medicare supplement plans in Pennsylvania can be used with any doctor, specialist, or hospital that accepts Original Medicare.
There's no need for a referral to see a specialist and no prior authorizations are ever needed for a procedure, unlike Medicare Advantage plans.

The Top 5 Medicare Supplement Plans in Pennsylvania are:
Medicare Plan G

Medicare Plan N

High-deductible Plan G

Medicare Plan F*

High-deductible F
* Only those who were enrolled in Medicare prior to January 1st of 2020 may have a Plan F. If you still have a Plan F we highly suggest you use our FREE online quote engine and shop the rates for Plan G or N.
Plan F is far too expensive and is no longer an economical choice.

Medicare Supplement Plans in Pennsylvania for 2022
There are really just three different Medigap plans that most people enroll in these days.
The Three Top Medicare Supplement Plans in Pennsylvania are:
Medicare Plan G

Medicare Plan N

High-deductible Plan G
More people in Pennsylvania will enroll in Medicare Plan G than any other plan this year. Plan G has the most coverage for relatively low premiums and is offered by several insurance carriers.
Medicare Plan G

Medicare Supplement Plan G pays almost all of the "gaps" in Medicare Part A and B. These gaps are expenses that Medicare doesn't pay and you are required to.
The gaps include things like deductibles, co-payments, and coinsurance.
Medicare Part B Deductible
The only gap that you have to pay if you have Medicare Plan G is the annual Medicare Part B deductible. This is an amount that you must pay prior to Medicare Part B (doctor's services) paying 80% of your medical bills.
It is a once-per-year deductible, so once the amount is met you will get 100% coverage with a Plan G on all your medical bills. In 2022 this deductible is $233 and should be close to this amount in 2023.
Medicare Plan N

Medicare Plan N is quickly becoming a top Medigap plan not just in Pennsylvania but all over the country. It has lower premiums and lower rate increases each year than Plan G.
Plan N premiums can be as much as $30 less per month than Plan G. Although their coverage and benefits aren't the same, they're very close.
With Medicare Plan N you still pay the Part B deductible just like you do with Plan G. After that, however, you might have a small co-pay per doctor's visit with Plan N.
Once the deductible is met though, Medicare Part B will pay 80% of your medical bills and Plan N will pay the additional 20%.
Medicare Plan N out-of-pocket costs:
The annual Part B deductible

Up to a $20 co-pay per doctors visit

$50 co-pay if you visit the emergency room and you're not admitted

Does not cover Part B excess charges (very rare)
Plan N is definitely worth considering due to its outstanding value and nice low premiums. Use our FREE quote engine on this page to check the rates for Plan N in your area now.

Medicare High-Deductible Plan G in Pennsylvania
High-deductible Plan G is a unique plan with lower monthly premiums than both Plan G or even Plan N.
With this plan, you'll have an annual deductible of $2490 (2022). That being said, you do not need to pay this in full prior to getting any coverage.
Remember, there is a Medicare Part B deductible of a few hundred dollars. Once you meet this deductible amount, Medicare Part B will begin paying 80% of your medical bills.
With High-deductible Plan G, you'll be responsible for paying the remaining 20% up to $2490. After that, you will get 100% coverage.
Medicare Supplement Rates in Pennsylvania
Medigap plans are standardized by Medicare. This means that each Medigap plan letter is identical coverage regardless of which insurance company you buy it from.
That means a Medigap Plan G from Aetna, is the exact same plan and coverage as a Plan G from say, United Healthcare.
Their premiums are entirely different though!
The best way to shop for Medigap insurance is to allow an independent agency such as us to help you every step of the way.
Why let us help?
It's FREE!

We shop the rates now, and every year for you

We won't let you overpay!
To compare rates online now, just click the button below!

How to Enroll in Medigap Plans in Pennsylvania
The easiest way to enroll in a plan is to just call us direct at 1-888-891-0229.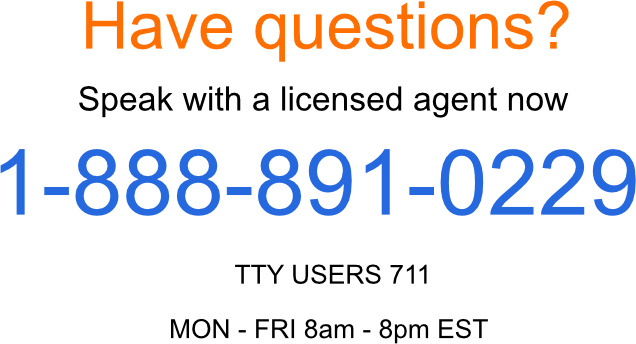 PopularArticles
Compare Medicare supplement plans
Medigap Plans – Which are best?